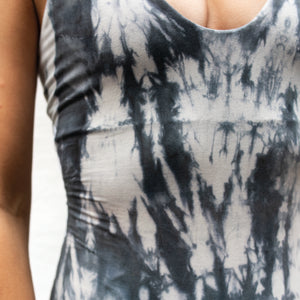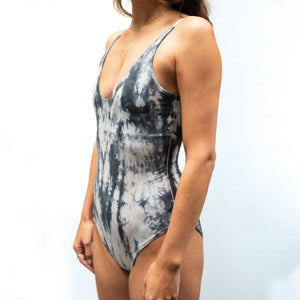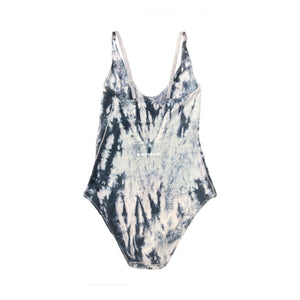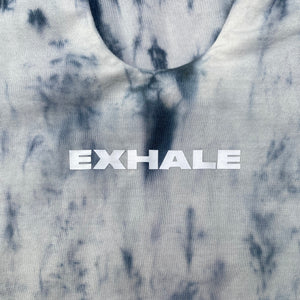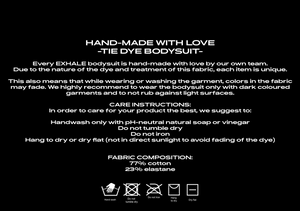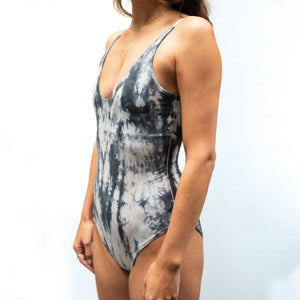 EXH BODYSUIT
Hand-Made with Love by our team <3

These tie dye EXH BODYSUITS are extra special for a lot of reasons. Each one was dyed and treated by hand by our own team in Antwerp. That's why you won't find any two that are identical. They are all as unique as you are! 
They have an open, deep neckline in the front, slim; adjustable shoulder straps and a round, deep-cut open back. Our EXHALE logo is subtle printed on the back in white giving this a branded touch.
ALL SALES ARE FINAL FOR EXH-BODYSUITS!
NO RETURNS AND/OR EXCHANGES!
ITEM'S MAY NOT APPEAR EXACTLY AS SEEN IN THE PHOTO.
WHAT COULD THE DIFFERENCE BE?
SHADES OF BLUES/WHITES/GREYS MAY APPEAR
DARKER AND/OR LIGHTER THAN FEATURED IN THE PRODUCT PHOTOS. 
MEASUREMENTS 
WAIST (measured at slimmest point):

S = 26cm
M = 28cm
L = 30cm
FRONT (until crotch) (measured from deep neckline/cleavage front until closure at crotch):
S = 40cm
M = 41cm
L = 42cm
CARE INSTUCTIONS
Every EXHALE bodysuit is hand-made with love by our own team.
Due to the nature of the dye and treatment of this fabric, each item is unique.
This also means that while wearing or washing the garment, colors in the fabric may fade.
We highly recommend to wear the bodysuit only with dark coloured garments and to not rub against light surfaces.
CARE INSTRUCTIONS:
In order to care for your product the best, we suggest to:
Hand-wash only with pH-neutral natural soap or vinegar
Do not tumble dry
Do not iron
Hang to dry or dry flat (not in direct sunlight to avoid fading of the dye)